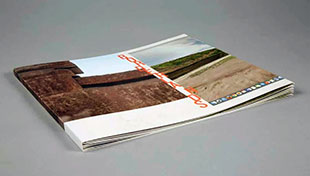 Borderlands
navigating the Virtual and Physical Divide
By Hannah Smith Allen
Rochester, New York: Visual Studies Workshop, 2020. Edition of 125.
11.5 x 13.5 inches closed; 11.5 x 175 inches open. Folded book of collage and map photography. In a hand screen printed, die-cut slip case.
VSW: "After the 2016 US presidential election, Hannah Smith Allen began visiting Google Earth to study the wall that separates California from Mexico. She noticed that glitches in the mapping software allow users to slip through the wall into another country's territory. Immediately, she began to video record her Google Earth travels. The digital aberrations of the collapsing wall inspired her to make three physical trips to the US Southern border. This accordion fold book/sculptural form is made from the over 500 photographs the artist made along the physical border as well as extracted video stills from Google Earth. A text weaves through nearly 200 inch wide piece making for 'Physical and Virtual Index of Numbers, Codes, and Crossings (in no particular order)'. "
Artist Statement and Biography: "For the past decade, Hannah Smith Allen's artwork has focused on ideas of history and nationhood. Whether she photographs a Revolutionary War site, examines the U.S./Mexico border, or contemplates how photography mediates her understanding of events in Iraq and Afghanistan, Allen examines how images of conflict and contested lands shape the American psyche and history.
"Allen is an Associate Professor of Photography and Digital Media at Adelphi University and holds degrees from the School of Visual Arts and Rhode Island School of Design."
$75