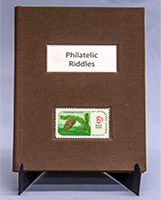 Philatelic Riddles
By Peter Newland
Quilcene, Washington: Pied Typer Press, 2018. Edition of 4 + 1 AP.
3.75 x 5.5"; 20 pages. Includes a scorecard, press clipping, digital stamp collage and 10 original stamps adhered as illustration. Digitally printed on Revere Book ivory paper. Case bound in brown cloth boards with paper title label on front board and original stamp as illustration. In paper slipcase with slip and slot closure. Numbered and signed by the artist.
Peter Newland: "Philatelic Riddles is a nod to the postal service for their faithful recording of U. S. history and a lighthearted reminder of the people, places, and events that have touched our lives."
"Philatelic Riddles" is a volume of ten original riddles with 1969 commemorative U. S. postage stamp answers.
Introduction: "The stamps in Philatelic Riddles were obtained at a garage sale – someone's unfinished business. Each was issued in 1969 as a United States commemorative. They cover a wide range of topics and could prompt a desire for further research."
$150