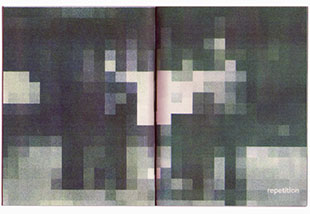 Between Tenses
By Beth Sheehan
Philadelphia, PA: Waterhouse Ltd, 2017. Edition of 70.
6.5 x 5"; 24 pages. Pamphlet structure with staple binding. Risograph printed. Introduction excerpt from "How to Live Safely in a Science Fictional Universe" by Charles Yu. Numbered.
Beth Sheehan: "'Between Tenses' is about hovering in between the past and present. Being consumed by attempts to clarify my past inhibits my ability to form a clear memory of the present, and so it goes. The photographs used in the book were taken throughout my childhood and then altered to simulate my present memory of the events, while the white text is the voice of my present self-examining the act of recalling those fragmented moments.
"Having no episodic memory of my past, I've fixated on the documentation of my life's history, mainly through childhood photographs and my own writings that strive for clear memory. My artistic process attempts to reconcile what's left of my memory and the sense of borrowed nostalgia that comes with something that feels familiar but unreachable."
$30