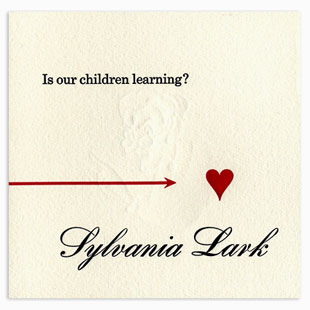 Is Our Children Learning?
By Michael Koppa
Liberty, Wisconsin: Heavy Duty Press, 2004. Edition of 500 (250).
5.5 x 4.8" CD and pamphlet in standard CD jewel case. Letterpress printed jewel case insert and tray card designed by Koppa. Printed and bound by Sylvania Lark. Limited, signed and numbered edition of five hundred copies (but ended up only 250). Pamphlet: 4.6 x 4.6"; 16 pages. Linotype-set Century Schoolbook. Printed on European Hemp paper. Hand-stitched within a hand-set, asymmetrically designed, two-color-cover. Printed with moderate impression on 300 gsm Hahnemühle Copperplate.
Tray Card: Combines Linotype and hand-set type. Letterpress printed with two-colors on Classic Crest Super Smooth.
CD: 38 minute recording of music by Sylvania Lark. Mike Koppa, Heavy Duty Press proprietor, plays guitar and sings eight songs, privately recorded and produced. Signed & numbered. Recorded and produced by Sylvania Lark for Mello-Crisp Records at Lunik in Milwaukee and Heavy Duty Acres in Liberty, Wisconsin, in 2003.
Songlist
Again, written by Sylvania Lark
Enterprise, written by Sylvania Lark
Blue Moon Revisited (Song for Elvis), written by
Michael and Margo Timmins
Fever, written by Eddie Cooley and John Davenport
Is it real? written by Sylvania Lark
In the Garden, poetry by Emily Dickinson, music by
Sylvania Lark
The Juncos, written by Sylvania Lark
Little Ol' Winedrinker Me, written by Hank Mills and
Dick Jennings
Players
Beth Bartos (voice); Vicki Hoffmann (piano and voice);
Kev Koch (drums, percussion, voice); Katrina Koppa
(voice); Mike Koppa (guitar, voice, keyboard, piano,
percussion); Mike Lappen (saxophone, guitar); Glenn
Maloney (bass); Gayle Schmidt (flute); Dave Shrank
(drum); John Szatkowski (piano, organ, accordian);
Dan S. Wang (guitar)
A collaborative project of Sylvania Lark and Michael Koppa. The project produced a full length debut CD from Sylvania Lark which included a collection of eight songs. Four are originals from Mike Koppa. Heavy
Duty Press: "Highlights include Enterprise, inspired by a woodpecker and the birth of a precious new life; the single, In the Garden, a melancholic interpretation of Emily Dickinson's poetry; and Fever, a rough-edged, slightly agonized version of Peggy Lee's sensual classic."
Michael Koppa: "I've always wanted to make a record of my songs so I asked a couple friends to do it with me (because I couldn't do it without their company or their equipment) and we made this record. Good times."
$25