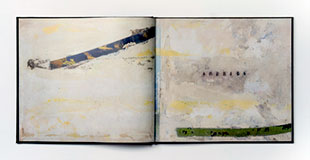 America, Alien Nation
By Christopher Kit Maddox
[Madison, Wisconsin]: ORCS, 2017. Edition of 30.
9.5 x 8"; 92 pages. Full color. Cloth covered boards. Die-cut rectangle on front board for viewing landscape image. Signed and numbered by the artist.
Christopher Maddox: "'America, Alien Nation' is an abridged, limited edition facsimile of a large altered book I completed in 2017. Influenced by the compelling and often regrettable history of palimpsests, the piece was made by selectively scraping away portions of the original imagery of the book, then adding content via collage and mixed media.
"The pre-alteration coffee table book was a visual homage to the American landscape. It glorified a history of Western expansion with images that evoked the romance of the Wild West and the splendor of modern urban development. Through passive omission, the pre-altered book filtered out a history of genocide, slavery, mass extinctions, economic polarization and ghetto sprawl. The pervasive alterations of the artist's book reflect histories retold from alternative viewpoints that had previously been denied a voice.
"Like my other Palimpsest projects, 'America, Alien Nation' retains elements of its original content to document its own transfiguration from mechanically mass-produced ephemera to a precious object. This return to craft and the visibility of the hand is used to convey the historical dependence of mass-produced things on a handmade prototype, which in turn may arouse consideration of cultural origins."
$85