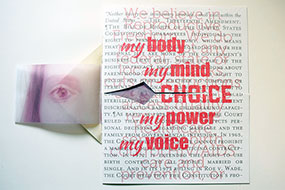 Choice
By Camden Richards
[Kensington, California]: [Liminal Press], 2017. Edition of 25.
8 x 10" closed, 16"x 10" open. Pamphlet with sewn binding. Papers: Zerkall paper, paper vellum. Letterpress printed text with ink-jet printed images. Die cut pages. Numbered and signed by the artist.
Liminal Press: "'Choice', an initial study for a larger forthcoming book project, is a folio that focuses on the different landscapes of choice in the external-public world vs the internal-private world. "The initial layers of the printed image in 'Choice' came from another recent collaboration, 'Folium'. I created the art and poem fragment in the final stages of the 2016 presidential elections believing that we would soon be electing our first female president. My mood was hopeful. Shortly after the elections, as I was cleaning up my studio, I realized I had a pile of extra prints (with cutting errors), prints begging to be put to use in some other format. Over the next month or two, and after no shortage of debates with various (male) friends about what guarantees a woman's right to choose, I realized that my poem fragment on the surface was about the end of my childbearing years, but underneath, it was really about choosing the role of mother for myself, when and where I wanted it. It was about my privilege to make that choice.
"To convey that in this new iteration of the folio, I collaborated with Marguerite Richards, a writer and woman just beginning the process of choosing motherhood. With our words (the 'before' and 'after' of choice) serving as bookends, at the center is a vintage illustration of mother earth, but with her baby separated from her, designating the reproductive choice that is literally again hanging in the balance, cut out and dissected in the public arena. The debate, the noise, and the chatter of the outside world and the language that serves to defend this 'right' (constitutional amendments, women's manifestos, ACLU briefing papers) is juxtaposed against the quiet interior landscape of this very personal and private choice, with simple poems and symbolic images. On the outside, each of our eyes, printed on paper vellum, is ever present, looking out from the inside and looking in from the outside, watching, intently."
$75