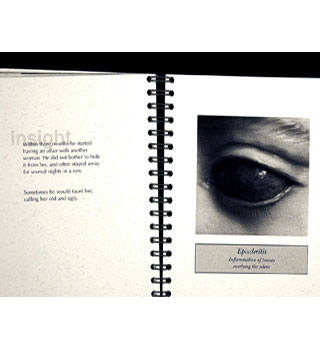 Sight Unseen
By Ann Lovett
New Paltz, New York: sunburn editions, 1997. Open Edition.
5.25 x 6.5"; 54 pages. Laser printed, spiral binding with cloth covers. Photography.
Into Focus / Art on Science Exhibition (1998): "Is science wholly objective? Should it be? Ann Lovett's chilling book Sight Unseen places side-by-side clinically titled photographs of eye afflictions and the story of a woman whose lover blinds her. This is not an indictment, but certainly underscores the cool detachment of medical science."
Afterward: "This book is based on the true story of Linda Riss, who was blinded when Burton Pugach, the man she had been dating, hired three men to throw lye in her face. He was convicted and served prison time for his crime. She married him when he was released and lives with him today. He was recently acquitted of charges that he had sexually abused and threatened to kill the woman with whom he openly admits having a 5-year affair. His wife testified as a character witness for him, saying that he was 'a wonderful, caring husband.'"
"This book is neither a condemnation nor an endorsement of the actions of this or the many other women who stay in abusive relationships. Rather it is an examination of the frightening power of human loneliness and need.
"The photographs in this book show a series of wax models depicting various diseases and injuries of the eye. They were purchased in 1882 from Tramond of Paris, and are part of the collection of the Mutter Museum of the College of Physicians of Philadelphia."
$85