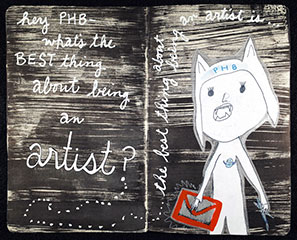 Never Flinch: a visual journal
By Rachel Simmons
Orlando, Florida: Rachel Simmons, 2014. Open Edition.
8 x 5"; 96 pages. Pictorial glossy covers. Perfect bound.
Rachel Simmons: "Never Flinch is an autobiographical visual journal that I published as a print-on-demand book in 2014. A visual journal is a marriage of writing and art; a playground for a busy, creative mind; an amplification of your inner voice; a record of your experiences; a regular meeting over coffee between you and yourself. Through a rich layering of mixed media drawing, printmaking and collage, this self-reflective journal immerses the reader in a colorful narrative about life, art, science, travel, and family.
"In my journal practice, I use a wide variety of materials and techniques. I write the text using a stream of consciousness, timed writing approach, and then visualize the writing through collage, image transfers, wax resist, linoleum prints, ink wash, acrylic, watercolor, drawing, and erasure poetry."
$26