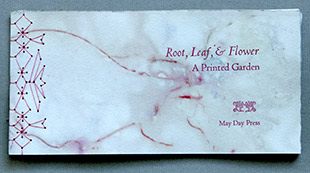 Root, Leaf, & Flower
A Printed Garden
By Catherine Michaelis
Shelton, Washington: May Day Press, 2018. Edition of 50.
6.4 x 3.1"; 18 pages. Letterpress printed with handset type. Botanical contact prints. Paper covers with handsewn binding. Designed and printed by Michaelis. Signed and numbered by the artist.
Catherine Michaelis: "Root Leaf, & Flower is a study of eleven individual plants and their transformation onto paper. The plants were collected from my garden. Each displays the unique gesture and color of a plant."
Each book varies slightly since each page is a handmade botanical print. Each page is labeled with that plant's name. The front cover is a Sweet Woodruff print, the back cover a Coltsfoot print.
$100