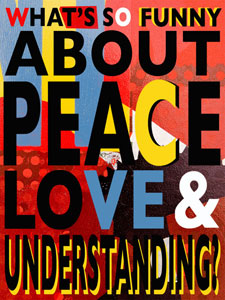 What's so Funny About Peace Love & Understanding?
By Simon Redington
Vietnam: Kamikaze Press, 2008. Edition of 1000.
9.25 x 11.75"; 20 pages plus covers.
Printed on the occasion of Redington's exhibition October 2008 at Art Vietnam Gallery in Hanoi, this booklet served as his artist's statement for that exhibition. The illustrations for the book were taken from details of a folio of limited edition printed posters, BOLT-117, by Redington. The portfolio was the first work to be produced at the new Kamikaze Press studio in South West France.
Art Vietnam review of the exhibition: "The current collection is comprised of a series of stunning poster-style prints, oil paintings, and confrontational sculptures. BOLT 117, the title of print series, takes its name from the original 'smart bomb,' an ironic acknowledgement of how devilishly might has come to replace intellect as the true measurement of power. As the viewer examines carefully the provocative posters they are confronted with the absurdity of mindlessness, the absence of careful consideration, and the tendency of the public to retreat into a silent mental torpor. The oil paintings with their bright colors and highly graphic compositions are almost garish in their dark humor. They create a carnivalesque atmosphere with an unmistakable and all too familiar menacing undertone. The collection ends in a final flourish of carefully constructed
ear. The mannequin's ghoulish mocking, expressions emphasize the closing message, 'Wake up before it is too late.....
"With this body of work, some of Simon's most provocative to date, the artist hopes to stir the sleeping public, to awaken the critical mind. He asks with acute awareness, wry wit, and a deep sense of compassion....
"What's so funny about peace, love, and understanding?" or as one might conversely say, What's NOT so funny about peace, love and understanding?"
$30