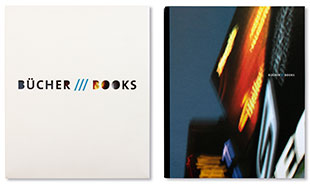 Bücher /// Books
Essays by Paul van Capelleveen, Dr Viola Hildebrand-Schat, Ruth R. Rogers, Dr. Stefan Soltek
Flörsheim & Offenbach/Main, Germany: Ines von Ketelhodt, 2019. Edition of 300.
23 x 28 cm; 192 pages. Bilingual text (German/English). Thread-stitched brochure with fabric spine. Printed slipcase with stamped title.
Artist's Statement: "Since the late 1980s, Ines von Ketelhodt has worked in the genre of the artist's book, and her work is represented in many international collections. She gained special attention for her 50-volume project 'Zweite Enzyklopädie von Tlön' [Second Encyclopedia of Tlön], which she produced in collaboration with Peter Malutzki from 1997 to 2006. An extensive catalog has already been created for this project.
Now a catalog is available for her 'pre- and post-encyclopedic' work. In addition to 420 pictures and detailed descriptions of all her books since 1987, the catalog also includes essays by Paul van Capelleveen (Koninklijke Bibliotheek, National Library of the Netherlands, The Hague), Dr. Viola Hildebrand-Schat (Frankfurt/Main, Germany), Ruth R. Rogers (Wellesley College, Clapp Library, Wellesley, MA, USA) and Dr. Stefan Soltek (Klingspor-Museum, Offenbach/Main, Germany."
$70